From breakfast to dinner, our gastronomic proposals at TUI BLUE Lindos Bay every bite reflects to the traditional taste of the Greek and the Mediterranean cuisine.
All of the restaurant facilities within the hotel are HACCP (Hazard Analysis Critical Control Points) certified, which is a food safety system.
In The Restaurant you have the chance to taste the traditional flavors of Rhodes island and the Mediterranean on your plate.
From breakfast to dinner guests will have the chance to experience a gastronomic adventure that will travel you all around the world. Starting you morning in our buffet for an energizing breakfast.
The Restaurant offers several theme nights that include Italian, Asian and Greek cuisine.
The Restaurant serves full American Buffet breakfast from 07:30 – 10:00
Early continental Breakfast is also available from 06:00 – 07:00
Late continental Breakfast is also available from 10:00 – 11:00
Buffet Dinner: 19:00PM until 21:30PM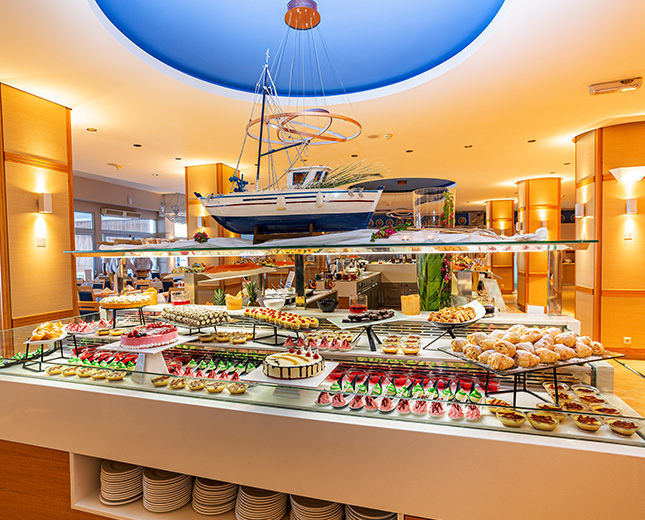 The location of our hotel bar is designed as the perfect spot for your evenings, and great place to socialize during your vacation. Our hotel bar also known as Purple Turtle is a unique place for your casual evenings, whereas our trained bartenders and mixologists have to offer your great choices of alcoholic and non-alcoholic beverages. Do not hesitate to taste our cocktails and wine selections and to enjoy the outstanding atmosphere at the TUI BLUE Lindos Bay.
Pool Bar: (Purple Turtle) opening hours are from 09:00 till 24:00
TUI Bar opening hours are from 17:00 till 24:00
Levante / Culinarium Restaurant
At Levante / Culinarium restaurant you will explore the rich culinary heritage of the local traditional cuisine of the region, plus a Mediterranean and international cuisine. Recently opened Levante / Culinarium restaurant prepared recipes with the finest local ingredients using the talent and creativity of our finest trained chefs.
Levante operates a beach restaurant from 12:30 – 16:00
Culinarium operates as an A La Cart restaurant from 19:00 till 21:30, and only upon reservation.